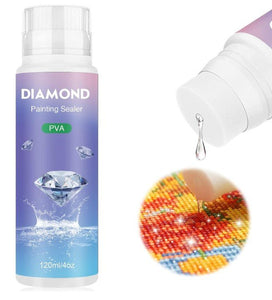 Diamond painting sealer is perfect for preserving finished diamond paintings, keeping your diamond paintings clear, sparkling and avoiding your treasured diamond painting falling off as the years go on.
Diamond painting glue is made of PVA, and water-based, 100% secure non-toxic, environmentally friendly, which is also suitable for other use in children's DIY creations and art craft for adults, safe and easy to use.

❤️ Easy to Use- Just apply this glue evenly to the surface of the diamond painting by squeezing out the glue, and spread the glue with the sponge head lightly and evenly all over the paintings, then let it dry. Takes 15 minutes for the surface to dry, and will be fully cured in about 30 minutes.