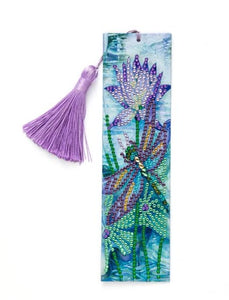 Mark your place in style with our Dragonfly Bookmark - made from leather, adorned by you with stunning crystal diamonds
Our exquisite Dragonfly Leather Bookmark is a mesmerizing addition to your bookmark collection. Crafted with the finest quality leather and adorned with shimmering diamond accents, this bookmark is not just an accessory but a statement of sophistication.
The Dragonfly symbolizes change, and it's every subtle hint adds significance to the design. This bookmark comes with beautiful sparkly crystal diamonds for you to hand place making it a perfect gift or for adding to your personal library. Keep track of where you left off in style and add a touch of elegance to your reading experience with this must-have kit!
Material: leather
Diamond Type: Special Shaped Drill
Size: 8.27 x 2.37"

Kit includes everything you need to complete the project