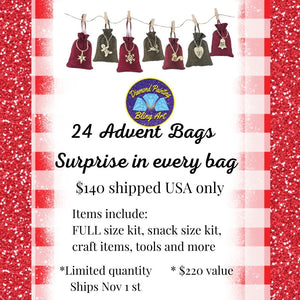 Looking for the perfect holiday surprise? Decorate your home with the **Preorder** Diamond Painting Advent Bags!
Get your creative juices flowing with 24 days of stunning DIY diamond art surprises. Don't wait - bring holiday cheer every day with a surprise item in every bag!!
Orders will ship on or near Nov 1st (possible sooner).
Items Will Include - something related to Diamond Painting such as:
special drills (ab, glow, crystal)
Full Size diamond paintings
specialty pen
tools
several craft diamond painting projects